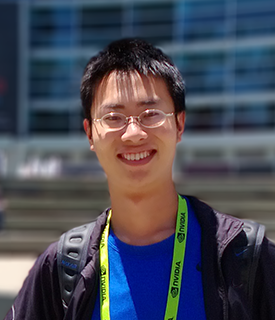 I am a forth year PhD student at Computer Science Department, Carnegie Mellon University, advised by Kayvon Fatahalian. My research at CMU is focused on automating the process of optimizing rendering systems with higher level programming languages and smarter compilers. The ultimate goal of my research is to liberate game developers from the time-consuming process of exploring low-level performance optimizations by generating optimized renderer implementations via data-driven program synthesis techniques.
I received my bachelor degree from South China University of Technology, P.R. China, in 2011, majoring software engineering.
I interned at Microsoft Research (Redmond) in summer 2015, and twice at NVidia Research in summer 2014 and 2013, working on shader programming languages and real-time shading systems.
I worked at Microsoft Research Asia (MSRA) from 2011-2012, building a distributed system for real-time stream processing (advised by Zhengping Qian and Zheng Zhang).
Visit "Projects" page for a list of my previous projects.
Resume
View my resume here: [PDF]
Activities
TA 15-869 Visual Computing Systems in Fall 2014.