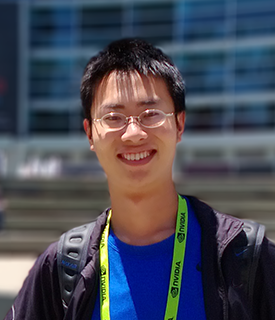 I am a forth year PhD student at Computer Science Department, Carnegie Mellon University, advised by Kayvon Fatahalian. My research at CMU is focused on automating the process of optimizing rendering systems with higher level programming languages and smarter compilers. The ultimate goal of my research is to liberate game developers from the time-consuming process of exploring performance optimizations by developing new programming language abstractions and domain-specific compiler optimization techniques.
Before coming to CMU, I received my bachelor degree in software engineering from South China University of Technology, P.R. China, in 2011.
Resume
View my resume here: [PDF]
Work Experience
Summer 2015 - Microsoft Research (Redmond, WA)
Research Intern (mentored by Todd Mytkowicz and Kathryn McKinley)
Studied probabilistic inference and approximate compilation.
Summer 2014 - NVIDIA Research (Redmond, WA)
Research Intern (mentored by Aaron Lefohn)
Studied reactive shading systems.
Summer 2013 - NVIDIA Research (Santa Clara, CA)
Research Intern (mentored by Aaron Lefohn and Eric Enderton)
Studied various anti-aliasing techniques. Investigated integrating adaptive shading into graphics pipeline.
2011 - 2012 - Microsoft Research Asia (Beijing, China)
Research Intern, Systems Research Group (mentored by Zhengping Qian and Zheng Zhang)
Bulit a distributed system for real-time stream processing with light-weight fault tolerance.
Visit "Projects" page for a list of my previous projects.
Teaching
TA 15-869 Visual Computing Systems in Fall 2014.